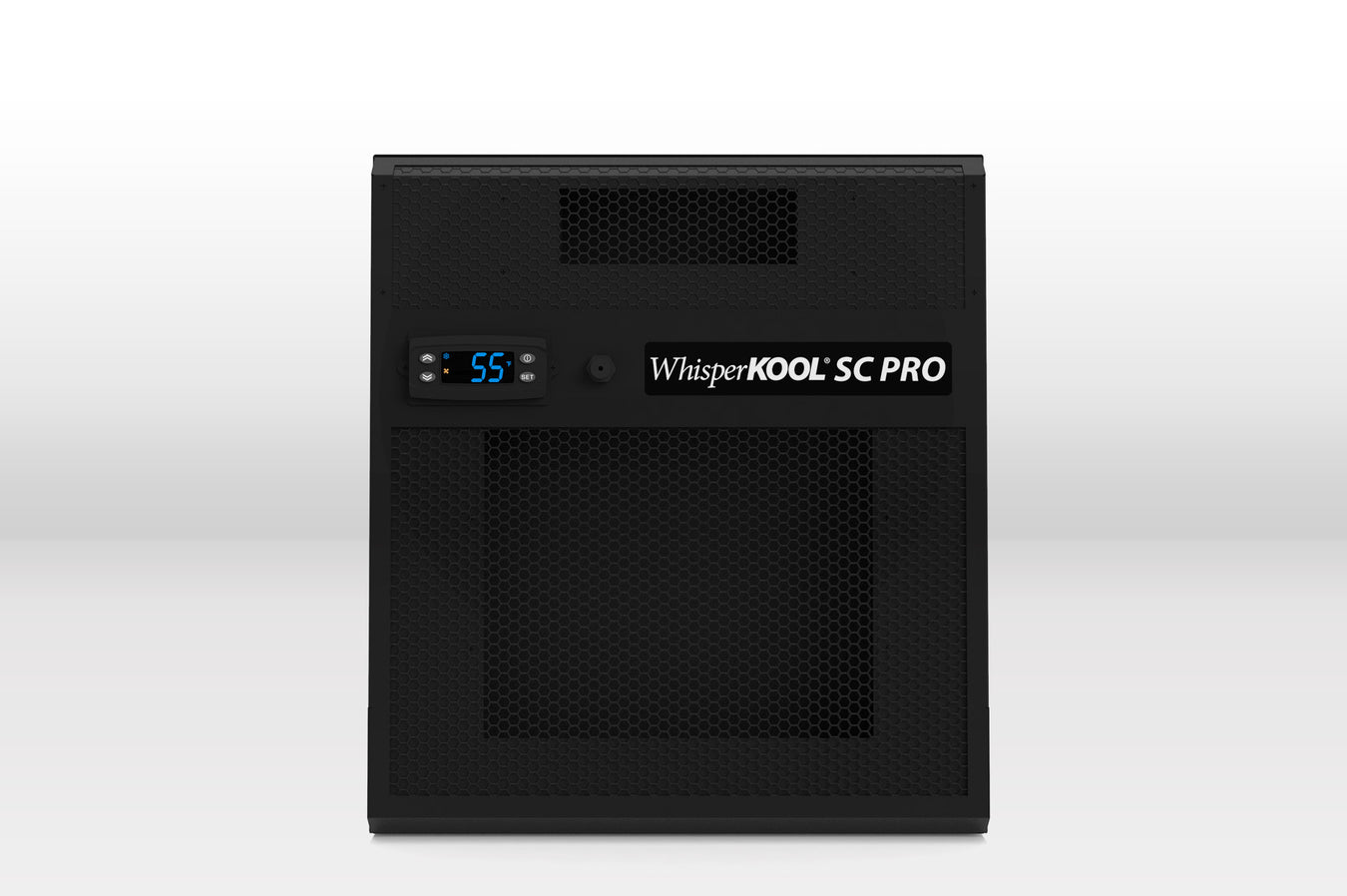 WhisperKOOL SC PRO Series Cooling Units
Welcome to the Future of KOOL!
The WhisperKOOL SC PRO Series embodies the latest and greatest system design technologies in all-new housing design. Developed upon feedback directly from customers and installers, the unit incorporates a variety of high-end components at an affordable price point. By combining powerful airflow with quiet operation technology and an integrated condensate management system, the SC PRO cooling unit is unrivaled when it comes to efficiently cool small to mid-sized wine cellars.
"SC" - The abbreviation for self contained, these are the most economical with a straight forward installation. 
The SC PRO Series is designed to mount between the studs of an existing wall (known as Through The Wall systems). One end of the system blows cool air in to the cellar, and the other end absorbs heat from the cellar and exhausts the heat into an area adjacent to the cellar.  This method of installation does do not require a licensed HVAC/R installation technician.

WhisperKool SC Series cooling units are the industry standard for wine cellar contractors. Designed for simple installation, the SC Series provides an economical solution to your climate control needs in a compact self-contained system. A direct replacement for the XLT Series, WhisperKool's SC Series utilizes the latest technology for superior efficiency and cooling.
WhisperKOOL's SC PRO Series
A direct replacement for the SC and XLT Series
Utilizes WhisperKOOL's latest and greatest technology
SC PRO Series Features
ADVANCED TEMPERATURE CONTROLS
The SC PRO Series utilizes the digital controller, which is located on the front of the unit. The digital controller is equipped with "Advanced System Protection" that set off an alarm to alert you if certain parameters aren't met.
EASILY VIEW WINE AND COIL TEMPERATURES
MONITORS SYSTEM AND ENVIRONMENT CONDITIONS
AUDIBLE ALERT TO MAINTAIN OPTIMAL PARAMETERS 
Advanced Digital Controller
Easily view wine temperature, evaporator coil temperature, and condensing coil temperature. Constantly monitors system and environment conditions for efficiency and performance. Emits an audible alert in the event of an alarm situation to keep your environment safe. 

Video about the Advanced Digital Controller
Showing products 1 - 4 of 4 in WhisperKOOL SC PRO Series Cooling Units.