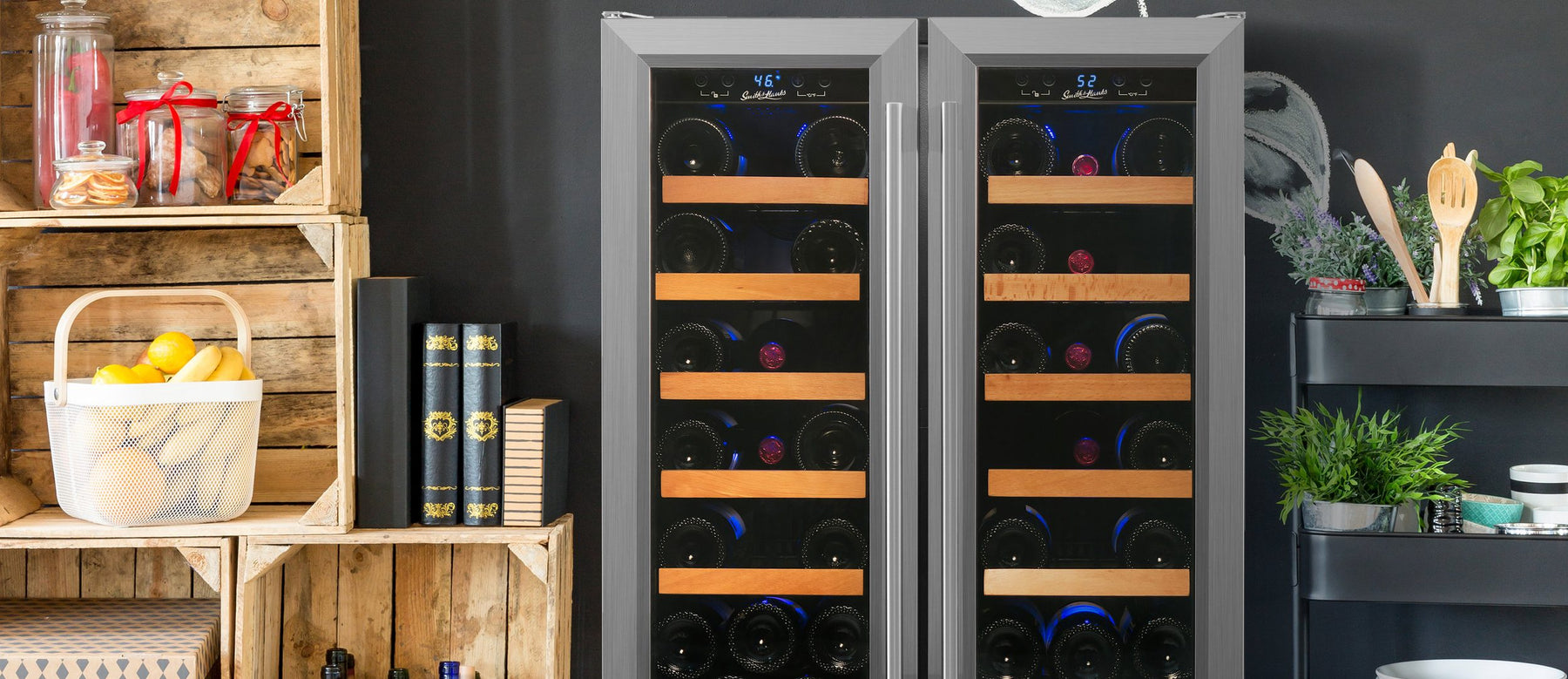 Wine Cooler Sizes: Which Is Right for You?
A fine wine can combine with gourmet flavors to create a result greater than the sum of its parts. Whether you appreciate wine with dinner or prefer to experience the full power of a fine vintage all on its own, a fine selection on hand helps assure your enjoyment. If you invest in high-quality wine, it only makes sense to acquire an appropriate wine cooler for storage. In this article, we will discuss the size and variety of wine coolers available to help you choose how to best protect, house, and display your wine collection.
Picking the Perfect Wine Cooler
You wouldn't buy a Ferrari without having an appropriate storage space, and it doesn't make sense to purchase a fine wine without a wine cooler. Wine coolers provide the assurance that your bottles will always be stored at a consistent and appropriate temperature. Coolers assist in aging your wine properly and help to reduce the damaging effects of natural light. Last, but not least, a wine cooler can help stabilize your wine and prevent the kind of unfortunate jostling that results in broken glass, spills, and tears.
The presence of a wine cooler in a home is the kind of appliance that evokes a soft murmur of appreciation from guests and visitors. Fine things have an inherent need to be treated appropriately, and wine provides the greatest pleasure when it is prepped, handled, and served correctly. Whether you live in a multi-bedroom house or a small apartment, there exists the perfect wine cooler to complement your existing decor. Here are some choices to consider when shopping for the perfect wine cooler.
Extra Small Coolers
Extra small coolers have a capacity of six to fifty bottles, which is a very large range providing plenty of versatility. Units are available as thin as six inches wide, which means you can place them virtually anywhere. You can make your cooler a centerpiece of your room or install it in an unobtrusive location. Free-standing, built-in, and under-counter coolers are all available in this size.
Coolers come with both transparent and opaque doors, although transparent doors tend to be more popular. Transparent doors allow you to look in and select a bottle without disrupting the stability of the temperature. Also, a collection of fine wines makes for an attractive display with unique labels and warm coloration that is pleasing to the eye.
An extra small cooler is similar in aspect to a space heater. Some coolers feature a design that orients the label of the bottle near the door, with narrower coolers storing the bottle oriented to increase the cooler's depth. Even if you expand to a larger household, a small cooler retains value for its convenient, unobtrusive size.
Small Coolers
If you have more space, or you are willing to devote more of your space to your wine needs, the next range of coolers falls into those with a fifty-one to one hundred bottle capacity. At both above and below the fifty bottle size, you start to see coolers that also serve as beverage centers. These feature options like multiple temperature zones and are ideal for storing sodas and beer in addition to your wines.
Aesthetics should always play a large role in your cooler selection. Some coolers are oriented like a refrigerator, which allows you to stand in front of the appliance and peruse the selection at your convenience. Other coolers are cabinet shaped with single or double doors. These are perfect for placing beneath countertops and are also advantageous for installation at eye level so you can read the labels without stooping or kneeling.
Coolers with a fifty to one hundred bottle capacity necessarily require more space than the extra small options. Remember that if you have some larger bottles in your collection, the greater bottle size can reduce the overall capacity of your cooler. You'll find the coolers are impressively quiet and have beautiful features like LED lighting, which can display your wine collection like a work of art.
Medium Coolers
Medium coolers are generally defined as those having a capacity from one hundred and one to two hundred bottles. The sizes and arrangements vary, but a cooler that has space for a hundred bottles will generally be about two feet wide by two feet deep and stand about five feet tall. These coolers are approximately the size of a small refrigerator.
Note that although the terms 
wine cooler
 and 
wine cellar
 are often used interchangeably, there are some differences. Coolers are generally designed to keep your wine at serving temperature and are ideal for around six months of storage. Cellars have superior vibration and humidity control and are preferred for aging a wine for a long period. Both coolers and cellars are far superior to refrigerators for wine storage of any length of time.
The more you get into larger cooler sizes, the more you will see units with the additional features of wine cellars. Coolers with a two hundred bottle capacity are still small enough to install in a medium to large kitchen area. Many feature designs that allow them to be used freestanding or to be installed into a wall or cabinet.
Large Coolers
Large coolers can accommodate up to three hundred bottles of wine and necessarily take up a large amount of space. A three hundred bottle cooler will measure around six and a half feet tall and have a depth and a width of over thirty inches. With larger coolers, you'll often find the maximum capacity will be dependent on your use of shelving. Some coolers can only achieve maximum capacity with many of the shelves removed, which makes it somewhat less convenient to access the wine.
The larger, the cooler you eventually select, the more likely it is that the design will be free-standing. The greater size of larger coolers makes it difficult to insert them into wall niches. However, the greater size makes it more convenient to peruse and select the ideal wine for the moment.
Extra Large Coolers
Any cooler with a storage capacity of over three hundred bottles can be considered an extra-large cooler. These coolers are free standing and will provide you with ample storage space for your wine collection. A cooler capable of storing 600 bottles of wine will measure around six and a half feet tall by six feet wide and be about thirty inches deep.
If after obtaining your extra-large cooler, you discover that you still don't have storage space for all your wine, remember that the solution isn't to buy less wine—it is to obtain more coolers!
A Wine Cooler for Every Occasion
Whether you are new to wine, or you have been a connoisseur for years, the right cooler can help to enhance your wine appreciation. A small cooler keeps your wine on hand at perfect serving temperature, and a large cellar helps your wine investment age and improve under perfect conditions. The perfect cooler is both a decorating and a lifestyle choice that provides any room with a stylish touch of elegance. If you're ready to pick out the perfect cooler, 
peruse the fine selection at Wine Cellar HQ today.