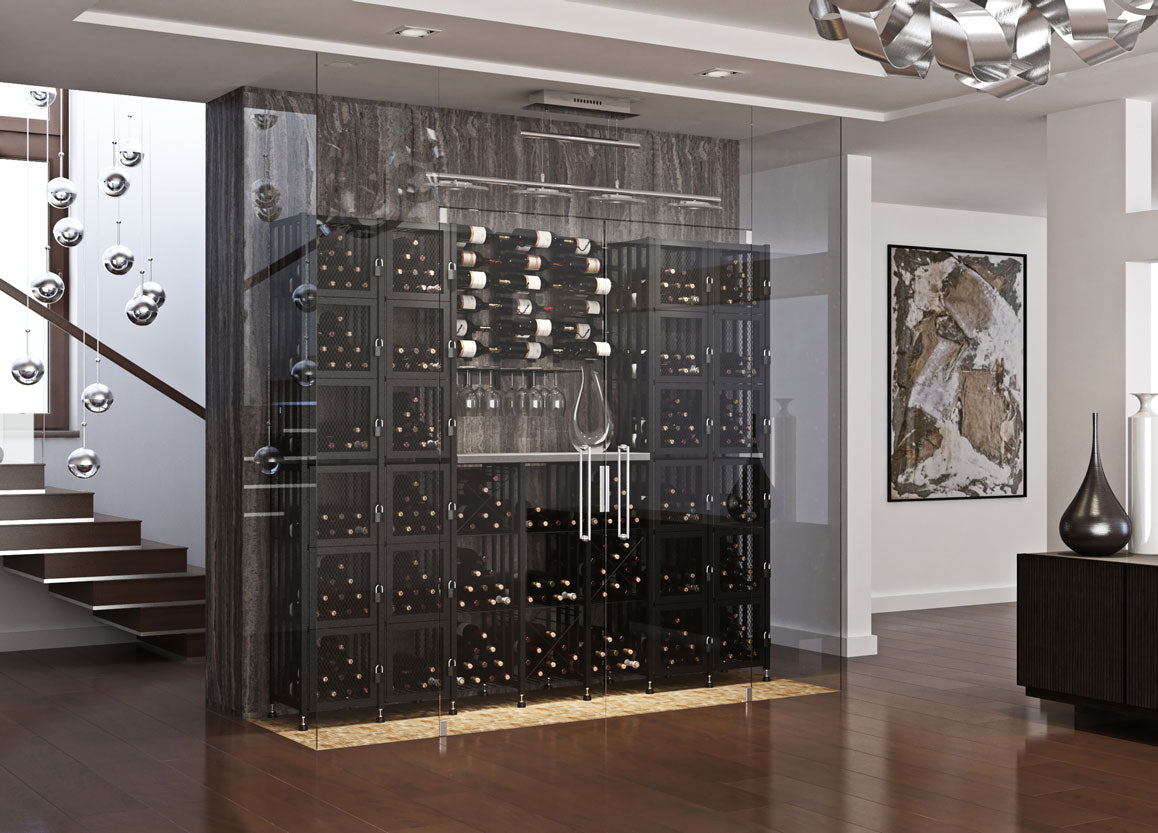 Wine Lockers - Crate and Bin
Wine lockers are available in standard and custom configurations. A great solutions for private clubs, restraurants, resorts, offering individual secured wine locker storage.
Browse our range below, or request a custom design.
Request a Custom Design
Showing products 1 - 8 of 8 in Wine Lockers.
Welcome to our Wine Locker Collection page!

Our collection offers the perfect solution for wine enthusiasts looking to preserve and organize their wine with efficient storage while adding aesthetic appeal to their space.

With advanced security features, portability, and digital interfaces for easy access, our collection of Wine Lockers makes keeping your bottles safe and organized a breeze.

Our wine lockers offer a sleek and modern design, providing optimal storage conditions for your wine collection. With state-of-the-art technology that includes temperature and humidity control, our lockers provide security features such as lock and key access to protect your collection from unauthorized access.

These products make the perfect storage solution for wine enthusiasts seeking premium security, materials, and technology. Browse our selection today and find the ideal locker to accommodate your wine storage needs.

Benefits
Wine lockers come with a host of features and can ensure your wine is held securely. Let's take a look at the key advantages of using a wine locker.
Perfect preservation
Wine lockers ensure ideal conditions for your wine collection. They allow you to maintain a consistent temperature and humidity level to preserve the flavor of your wines and their quality. This ensures they mature correctly and keep their integrity.
Efficient storage
These lockers have impressively designed compartments. They enable you to organize and categorize your collection to make it easy to identify your favorite wines. They are suitable for collections of all sizes.
Aesthetic appeal
Wine lockers aren't just great in terms of practicality. They also allow you to enhance your home or office's look. They enable you to show off your collection in an appealing way and can generate fascinating conversations.
Security
Wine lockers come with advanced security features. They can protect your collection from accidental damage and theft, giving you valuable peace of mind.
Portability and accessibility
Some of these units are easy to move around. Digital interfaces enable you to access your collection at any point, from any location.
Wine lockers are suitable for various situations
At home
Wine lockers can enhance your kitchen or home bar. They're great for those who love a good bottle of wine and wish to keep their collection in the best possible condition.
In the office
A wine locker can wow colleagues and clients. These lockers are ideal for any work environment and make it easy to entertain guests.
Restaurants and bars
If you're based in the hospitality sector, a wine locker can be the perfect addition to your space. It will ensure your bottles are kept in fine condition so you can protect your establishment's reputation.
Wine lockers are compatible with many products and brands. They can be paired with aerators, decanters, and bottle openers from all the most trusted brands. You can also pair some lockers with smart home systems.
How to choose the right wine locker for your needs
Size and capacity
It's important to buy something suitable for your current collection but also allows for future growth. Casual collectors often opt for small storage units, but if you're a serious collector you may wish to opt for a larger product.
Climate control
Features for controlling humidity and temperature can give you the peace of mind you require. Optimal wine storage conditions are 55°F (12.8°C) and 70% relative humidity. This will protect the quality and integrity of your wine.
Security
Some wine lockers have special security features, including alarms and biometric access. These can keep your collection safe. This is especially important if you have expensive or rare wines to protect.
Location
Think about how often you'll need to access your collection. If you need frequent access, a local facility could be ideal. However, you could save money by opting for a distant one.
Accessibility
Features including display racks and roll-out shelves can make it easier to handle your collection. Make sure the unit you're interested in has these features if you think you need them.
Vibration control
Persistent vibrations can cause the sediment in your wine to become disturbed. This can negatively affect the aging process and the flavor of your wine. Many quality lockers have vibration-dampening systems, which are particularly beneficial for delicate wines that need to age without being disturbed.
Insurance
An insurance policy is ideal if you have concerns about unexpected loss or damage.
Aesthetics
If you're excited about showing your wine collection off to others, seek out a storage solution that's visually appealing. Make sure the unit is a good match for your interior design and is able to display your collection in style.
Cost
Wine lockers' prices vary wildly depending on features, sizes, and location. Work out your budget beforehand and seek out an option that offers the greatest value for money.
Backup power
Backup power can come in very handy when a power outage strikes. It can keep your collection at the right temperature and humidity.
Dual-zone temperature control
Dual-zone temperature control lets you store reds and whites at the right temperatures inside the same unit. This enables you to protect the flavor profiles of all your wines.
UV protection
This feature isn't always discussed when wine lockers are discussed but can be incredibly useful. As UV can degrade wine over time, looking for a unit with a UV-protected door is a great idea. This will help you show off your collection and protect your wines from sun damage at the same time.
Energy efficiency
Energy-efficient units can help you cut your carbon footprint while reducing operating costs. If you need a sustainable option that won't cost the earth to run, an energy-efficient unit may be best for you.
Expandability
Some lockers enable modular expansion, which can be ideal if you want to grow your collection in the future. Expandability means you don't need to buy an entire new unit when you have new wines to add to your collection.
Which types of personal wine lockers are available?
Personal wine lockers
These lockers enable private individuals to look after their wine collections. They are regularly installed in private residences and provide compact wine storage. They can often be customized to ensure the size and design is suitable for your home. These lockers are increasingly being integrated with smart technology, which allows you to monitor and control humidity and temperature even when you're away from home.
Commercial wine lockers
Commercial wine lockers are designed with enterprises such as wine producers, wine stores, and restaurants in mind. They give you a temperature-controlled environment for storing wine and bulk, making it easier for businesses to maintain the integrity and quality of their wine. Some commercial wine lockers come complete with advanced features including UV-protective doors. These defend wine from light exposure.
Wine storage facility lockers
These off-site secure storage units are commonly seen in dedicated wine storage facilities. These facilities often offer various sizes of climate-controlled lockers to accommodate different client needs. Wine enthusiasts who lack sufficient storage space at home or businesses requiring temporary storage during peak production periods may opt for this subtype. A less-known fact about these facilities is that they often host social events for locker renters, such as wine tasting gatherings or educational seminars, creating a community of wine lovers.
Club member wine lockers
Some wine clubs and luxury restaurants provide private wine lockers to their members. These lockers ensure members can store their favorite collectible wine bottles at the venue so they can consume them later. These facilities allow you to enjoy your personally selected wine with your meal at a restaurant.
Travel wine lockers
These portable storage units are designed to ensure wine is transported safely. They're particularly popular with travelers who want to take their favorite bottles on holiday and can also help you transport wines from overseas vineyards all the way back home. These lockers are usually designed to be compliant with airline baggage standards.
Vintage wine lockers
These specialized storage units are designed to store vintage wines. They give you the ideal conditions for long-term storage and offer precise humidity and temperature control. They tend to come with features that reduce vibrations. This is helpful due to the way that excessive vibration can disturb wine ageing processes.
Which alternatives to wine lockers are available?
Residential wine storage
If you need an alternative to a wine locker at home, consider buying a wine cooler. These appliances also tend to offer temperature control, though humidity control isn't normally so precise when it is included. If you mainly have wines that are ready to drink, or you don't have space for a larger installation, a wine cooler could be ideal for you.
Wine aging
Wine lockers are great for long-term wine aging. However, if you need an alternative, you may opt for a traditional wine cellar. These cellars give you cool and humid conditions that are perfect for aging wine. A wine cellar could be for you if you have the space and numerous vintage wines to protect.
Commercial storage
If you need a commercial wine storage solution but a wine locker isn't right for you, consider choosing a commercial wine cabinet. These cabinets ensure simple wine access and help you show off your products in style. If your customers often select their own bottles, consider obtaining a commercial wine cabinet.
Off-site wine storage
Another alternative to the wine locker is a climate-controlled self-storage unit. These units are more flexible in size terms and are great for collectors whose collections tend to change over time. On the downside, not all units give you the specialized wine-specific conditions you might get from other solutions.
Shared wine storage
If you're part of a group of wine collectors, you could consider co-owning a large wine cellar. This can give you more control and space. Just remember you must work closely with your co-owners to ensure everyone gets what they need from the facility.
What to consider after your purchase
Find the right location
You may be wondering where the best place for your locker is. Make sure the location is dry, cool, and away from direct sunlight. Basements are great, but if you don't have access to one you could opt for a room that's always cool or a space located away from windows.
Temperature and humidity control
You can monitor conditions via the use of a hygrometer and thermometer. If you find it hard to maintain the right levels, you could opt for an advanced locker with built-in humidity and temperature control.
Organizing your collection
If you have concerns about keeping track of which wines you have available to you and their locations as well as when they should be consumed, you can keep paper or digital records. It's also best to put wines that need to be consumed sooner near the front and others that need time to age at the back.
Managing vibrations
Vibrations can cause disturbances and affect the aging process. This is why it's so important to store wine somewhere that has minimal vibrations. Some premium lockers will absorb vibrations in order to keep wine undisturbed.
Security
If you're storing high-value wines, you could have concerns about theft. Many lockers come complete with secure locks, but you could also place your locker in a room with extra access control.
Frequently asked questions
What is a wine locker?
Wine lockers are special storage units that help you maintain the ideal conditions for wine storage. They give you control over light, humidity, and temperature so you can create the perfect conditions for wine preservation and aging.
Why is climate-controlled storage so important?
Climate control enables you to preserve your wine's flavor, quality, and lifespan. If temperatures become too high or low, wines can easily be ruined.
Can I store all kinds of wine in these units?
These storage units are suitable for all kinds of wines. You can adjust the temperature and humidity controls to meet the specific requirements of different types of wine.
How many bottles can these lockers store?
Capacity depends on the specific model you're using. However, various sizes are available. These include small lockers for a few dozen bottles and much larger ones for hundreds.
Are these units secure?
Many of the lockers on the market come with excellent security features. These can include biometric security, key access, and digital access.
Are these units energy efficient?
Not all units are the same, but many products are available that prioritize energy efficiency.
Should I get a professional to install my locker?
Some models are relatively easy to install. However, some units are tougher to install due to their size and complexity. If you don't think you have the experience or expertise needed to install a specific wine unit, it's best to consult the professionals.
What happens if I have an issue with my locker?
If you do encounter a problem, talk to the manufacturer. A warranty may cover you, but check the product page of each for the details.
Can I customize my locker?
Many manufacturers give you customization options which enable you to match the look of your locker to your existing décor.
Do these lockers need much maintenance?
Most of these storage units need little maintenance aside from regular cleaning and making sure the ventilation area remains clear. Follow the instructions that come with your unit.