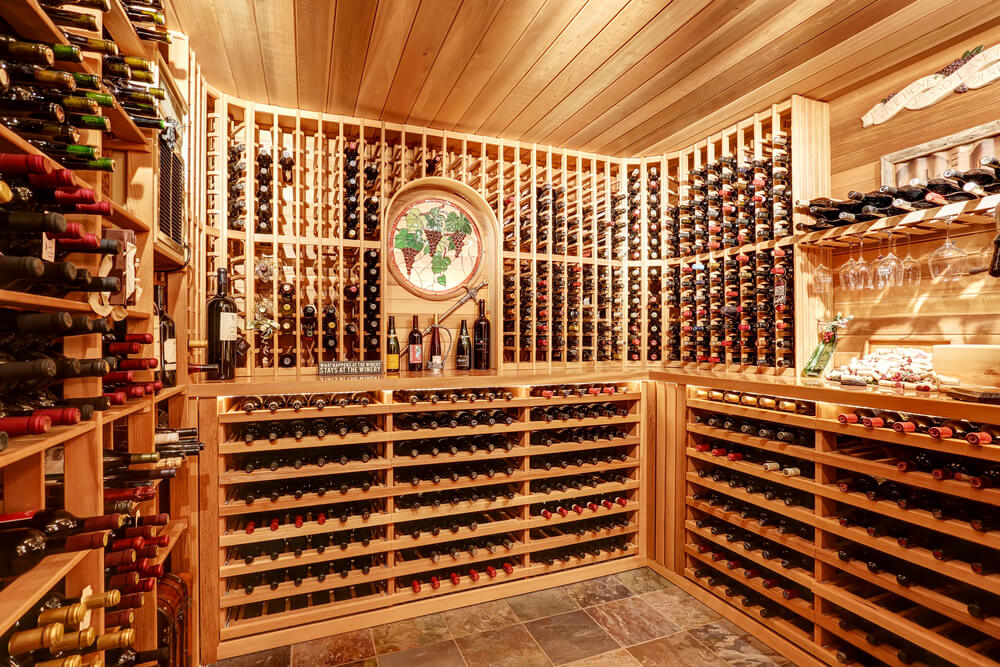 Guide for Building a Custom Home Wine Cellar
Building a wine cellar will showcase your unique personality and love of wine while protecting and preserving your collection. From selecting the right location to choosing the right materials, design, and accessories, this guide will help you create a custom home wine cellar that's both functional and stylish. 
1.   Assess your wine storage needs.
Before you start planning your wine cellar, evaluating the space, and determining your storage needs are important.
Think about how many bottles of wine you want to store, their sizes, and the types of wines you collect. Consider if you're open to adding more bottles and if you'd like space for a tasting room or small gathering area.
Taking an inventory of your needs will help ensure that your finished custom wine cellar meets all your expectations.
If you're open to growing your wine collection without restrictions, you can start buying wine racks or wine pegs that are stackable or modular so you can adjust it eventually as your collection increases.
2.   Select a location for your custom home wine cellar.
After establishing your needs, the next step is to decide where you want to build your wine cellar.
The best locations are cool, dry, and dark areas of your home that will keep temperatures stable.
Basements protect the most from exterior elements like sunlight, vibrations, or extreme temperatures.
If you don't have access to a basement, examine other untapped areas like corners in galleries, closets underneath staircases, pantries, along the hallway, and even spare guest rooms.
You can display your wine on the walls with a wall-mounted wine rack. However, if you want to avoid damaging the wall, floor-to-ceiling wine storage can show your collection neatly and elegantly. You can install them in the kitchen, dining area, living room, or designated wine room.
For wine tasting or a space for an intimate gathering, you may want a separate room that can accommodate a tasting table and other wine cellar furniture. There are wine racks with a tabletop and stemware rack that helps save space.
If you plan on storing your vintage in a wine fridge or cooler and incorporating them into your home design, built-in and under-counter units come in different storage capacities. Wine fridges can also be freestanding but are sleek and elegant enough that they will seamlessly blend with your interior design.
3.   Home wine cellar infrastructure preparations.
After you've settled on a location, it's time to get your cellar ready for construction. To properly support a wine cellar. Your heating and cooling needs must be carefully accounted for. 
Cooling units
Choose a cooling unit that suits your wine cellar structure and budget. For example, through-the-wall systems should be vented into a well-ventilated space that should handle the unit's excess heat. If your cellar is near the areas of the house you frequent, you should consider getting a self-contained cooling unit, as it will create noise. 
Wine cellar floors
Floor reinforcements may be required if you plan to store heavy cases of wine. Additionally, it can help leave extra ventilation space since unwanted oxygen makes its way into most cellars over time.
Ensure that the wine cellar is sealed, as temperature and humidity are two important factors that affect its quality and shelf life. Inspect for possible leakage on the walls and floors, and regularly check your cooling units and fridges.
Wine cellar doors
Install a wine cellar door that securely seals your wine cellar and brings out your sense of style and distinct character to your wine room. 
Wine cellar walls and ceilings
Wine walls could be a gorgeous wall décor, but it needs to be strong and durable. Choose moisture-resistant materials. Mold-resistant drywall, stone, or tiles can be used. For a well-insulated and ideal wine cellar wall and ceiling, furring and framing should be done. Furring is installing wood strips to raise the surface and prevent dampness. Framing helps keep the ceiling and wall from collapsing.
Building a custom home wine cellar is no small project—but one that can make your house yours. By preparing the infrastructure correctly, you'll have an attractive and efficient storage solution that preserves the quality of your collection.
Speak with professionals who will guide you with expert advice and wine cellar design consultations, ensuring your custom wine cellar project is a success. 
4.   Home Wine Cellar Design Considerations
The climate inside your wine cellar is one of the most critical design considerations. But when designing a custom home wine cellar, there are other factors you should pay attention to.
Size
You may have space restrictions at home, so when planning the design, consider the size of your wine cellar first. You wouldn't want to cram your basement until it puts your collection in danger of crumbling. Regardless of the size, ensure that accessing your bottle will be trouble-free. Make it easy to move around, store, and remove the wine from storage.
Storage units
Where should you place your opened bottle, wine cases or crates? Will you add a wine cabinet or fill your wine cellar with racks? Build a custom home wine cellar floor plan considering the storage units, furniture, and accessories you want to add.
Insulation
An ideal temperature for a home wine cellar is between 55-60°F and should avoid swings above 70°F which can be unfavorably warm. Humidity should remain at around 60-70%, and to prevent mold growth and preserve corks, it's best to keep the air circulating. Good insulation can help to maintain the cellar's climate stability year-round. 
5.   Accessorize for optimal enjoyment.
Whether you're a wine enthusiast or just getting started with your collection, accessorizing your wine cellar will add an exciting element to what could otherwise be a solely functional room.
Adding shelves, custom cabinets, bar tables, stools, and lighting fixtures can help create a striking aesthetic you'll enjoy every time you enter the space.
Stemware holders show off beautiful glasses, while illuminated signage highlights some of your favorite labels or collections.
Add stunning art pieces, memorabilia, an ornate mirror, and accent wall panels of your choice for a more personal touch.
Keep the must-have barware accessories of sommeliers close in the cellar, such as:
Decanter or aerator
Wine tumbler and glasses
Foil cutter
Wine glass marker
Bottle openers or corkscrews
Wine bottle stopper
Wine cooling stick
Wine preserver
Tasting notebook
You can even further optimize storage space and automate temperature using modern technology like Bluetooth-controlled wine coolers or Wi-Fi-enabled climate and humidity sensors.
WhisperKOOL shows how to utilize your home space and build a custom wine cellar in this video from selecting a location to choosing the best cooling units and designing. 
Final Words
Building a custom home wine cellar may be a challenging endeavor to begin, but with the help of experts and a little research, you'll be able to see your plans into fruition sooner than you expect. Creating a space for your wine bottles that also shows your personality is a fun way to store your favorite vino collection. Finally, an area in your home that you can truly call your own.