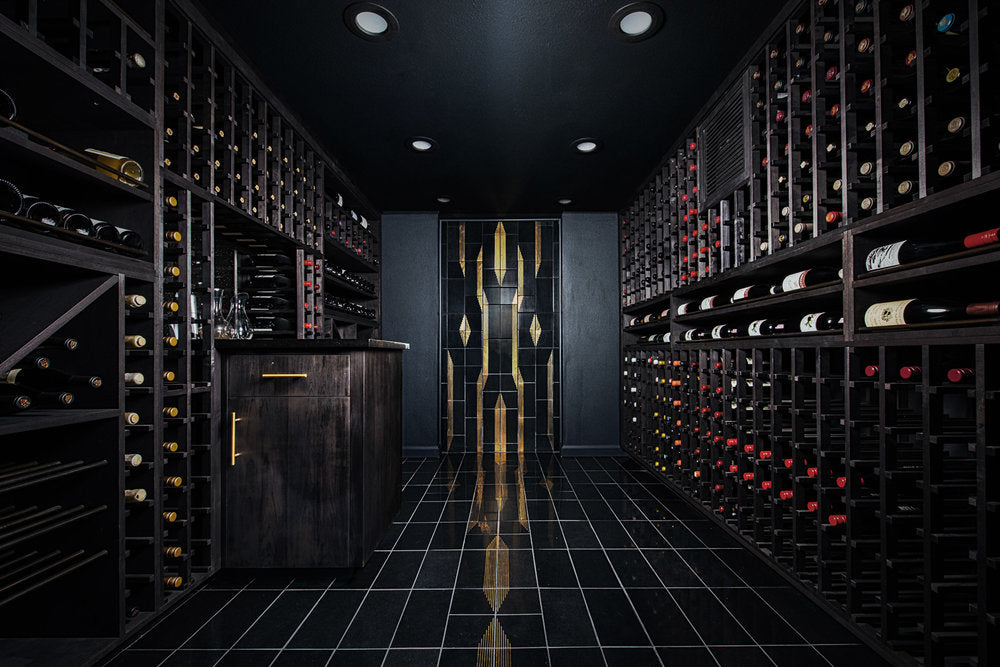 Modern Wine Cellar: 6 Unforgettable Design Ideas
The modern wine cellar has a lot going for it, and it's easier than ever to create the perfect climate for storing wine right in your very own home. A wine cellar is also a great way to add value and luxury to your living space. If you're ready to build one for yourself, consider some design ideas to make yours an unforgettable space.
Modern Wine Cellar: 6 Unforgettable Design Ideas
1. Transform a Closet
You don't need a huge house with a basement or cellar to have an amazing wine room. You can turn a closet or pantry area into a wine cellar with just a bit of creativity and the right climate control system. This is perfect if your home is climate controlled, and your pantry is away from windows that let in too much sunlight.
To pull this off, replace part of the drywall with glass so you can display your collection, and fit in a wine shelf. Another possibility is to lay decorative tile against the back wall and then finish the alcove area with wall-mounted racks. Don't forget to install decorative lighting that will show off your collection to best effect, and 
consider a small cooling system
 if you can't find a place that will stay at the right temperatures and humidity consistently.
2. Make Room Under the Stairs
Make all that empty space under the stairs work for you by storing your wine. Some wire grid racks or even wooden crates with the right lighting can give you storage space and have a chic, post-modern industrial look. If you're not putting doors in the space, however, you might do best investing in a 
small wine cooler
 to ensure that at least your best bottles are perfectly climate controlled.
To up your game a bit more, and improve the resale value, add some glass doors and lighting. If you have a large enough space, you could install wine shelving, but why not get creative with this space? Some wood veneer pegboard and stainless steel rods will give you a much more modern and minimalist look. Combined with a glass door and low-UV lighting, this could become the talking point of your home.
3. Add a Tasting Room
If you have space, a modern wine cellar should always have a tasting room. After all, wine is for enjoyment and is always best when shared! For personal enjoyment and entertaining a close friend or two, consider a small bar area. Lighter colors and glass give a sense of spaciousness even if the area has to stay fairly small.
For a more romantic feeling, a small, intimate table situated near the wine racks and an understated chandelier can be a great place to bring that special someone. If you have the room, think about removing a bit of shelving to make room for an inset bench with throw pillows.
4. 
Make It
 

All

 

About the Room

Instead of adding the tasting area to the wine cellar, why not add the wine cellar to the tasting room? In this arrangement, the emphasis is on the sharing space.

If you have an interior sitting room, consider making the tasting room the emphasis with rugs, lounge chairs, and a built-in speaker system for background music. Display your collection with 

beautiful showcase wine coolers

 that run quietly, flanking a 

wine credenza

 for drinks preparation and storage space for your decanters, glasses, and other utensils.
5. Go for a Minimalist Look
Modern homes are all about minimalism, and you can be on-trend in this regard by the way you design your cellar. Consider wine shelves set within the wall and covered by sliding panel doors in clean, bright white. A recycled wooden bar table with matching stools can offer a minimalist, yet rustic, place to enjoy wine with friends.
Do this on a smaller scale by turning some of your kitchen cabinets into a wine cellar. Remove the cabinets themselves, add shelving, and put a mirror on the back wall to make it seem lighter and larger. Glass doors give it a high-end feel. If you love entertaining in the kitchen, this could be the perfect design for maximizing your enjoyment of the space and your wine at the same time.
6. Think Outside the Storage Box
Wherever your wine cellar is located, and no matter how large or small the space, it pays to think outside the box in the design of racks and storage. Artisanal wine rack systems can be designed to your specifications and to make the best use of just the amount of space you have.
Remember that the final look will depend on the lighting as much as the design of the racks. Modern wine cellars are about brightness, not the gloomy traditional wine "cave" interior, and artful organization with a well-lit space that highlights the bottles will give you an elegant display for your wine investment. Since most bottles need to rest on their sides, back-lit, floating ledges are one of the best storage systems for a modern wine cellar.
A Note on Climate Control
The secret to any successful cellar, whether it's a whole room or just a space under the stairs, is climate control. The ideal temperature is always 55 F, give or take a few degrees in any direction, but 
bear in mind
 that just as important as the temperature is controlling temperature 
fluctuations
. Wine cannot handle large fluctuations in temperature and humidity.
If you can keep your wine away from exterior walls or windows that let in UV light and heat, you'll have the best experience. After that, it's a matter of having the right climate control system that can keep up. 
N'FINITY
 and 
WhisperKool
 have some gold-standard systems that will keep your room or space perfectly controlled. Just remember to size carefully—so your don't force your cooling unit to work too hard, cooling a space that's too large for it.
Build the Modern Cellar of Your Dreams
Whatever space you have and whatever your budget, you can store wine well and in an attractive manner that adds value to your home. For more ideas, and to get the best cooling units for your wine, 
visit Wine Cellar HQ today!