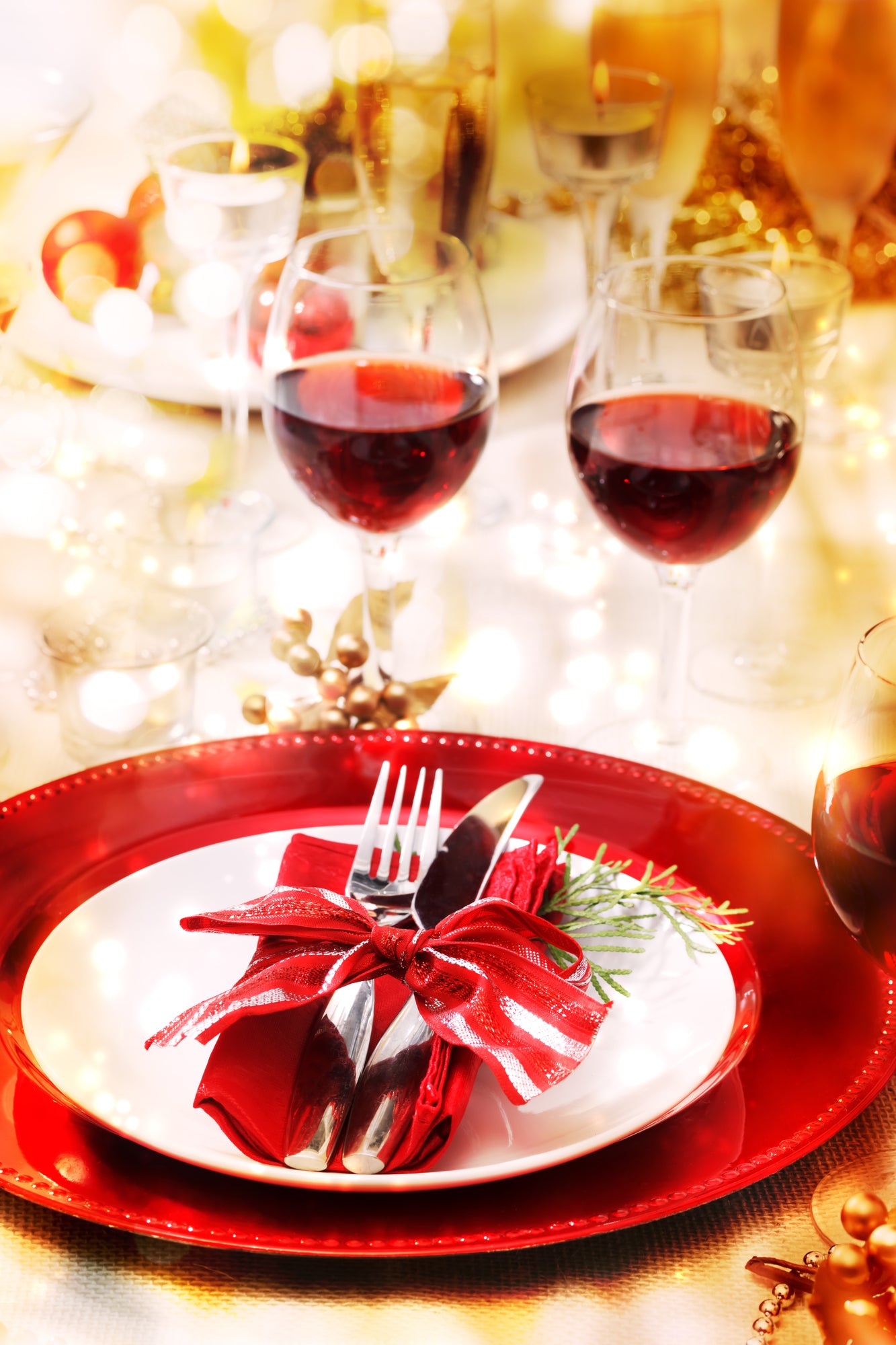 How To Throw a Wine-Themed Christmas Party
What could be a more fun Christmas party for oenophiles than a wine-filled one? We have fantastic ideas, from invitations to decorations and games, to help you throw an epic wine-themed Christmas party and make your event special and memorable. 
1. Plan every detail
What makes a theme party enjoyable and successful is the details that make up the whole picture. So plan everything carefully.
Count the number of people attending so you can estimate the food you'll serve and decide where to throw the party.
How should you decorate your invites, table, and venue?
What should you be serving? Aside from wine, of course!
What games should you play that is a reference to or related to wine?
What colors should your clothes and décor be? 
Pro Tip: If you're having trouble deciding what wine theme would work best for your event, choose from the varieties available, such as red wine, white wine, or champagne. 
2. Find a suitable location
There are many wine-related locations you can throw your Christmas party at. 
The wine cellar is a great idea. Find a cellar or restaurant with a cellar that can fit your party. 
A vineyard or winery open for events is also a perfect location. 
The vineyard would be great for a big party, and the gorgeous view will be a plus.
If you have a wine cellar or wine racks at home where you proudly display your wine collection, this is the best time to show it off.
Tip: Ensure your wine cellar has the right cooling system, wine racks, and equipment. Make your guests comfortable in your stunning wine furniture and display your exquisite bar furnishings. Visit winecellarhq.com for your wine cellar and wine storage needs.
3. Get all your party needs ready
Throwing a party at a bar or hotel would be easy as they serve the food and most often take care of the tablescape. But if you're throwing a DIY wine-themed party in your home, you must gather all the party essentials at least a week before the date.
Things You'll Need to Throw the Perfect Wine-themed Christmas Party
1. Wine glasses
If you don't have enough wine glasses, you can buy inexpensive ones at your local dollar store or discount store. Add Christmas-themed accessories like a Santa Claus hat for a wine glass cover. It will also help if you can create or buy a personalized cork wine glass tag or ring. This can serve as your wine-themed Christmas party token.
2. Wine opener
You'll need a corkscrew or screwpull opener. Some people prefer using a manual corkscrew, while others prefer using an electric corkscrew because it makes opening bottles easier and faster. Have both ready, when possible.
3. Food and drinks
Identify the type of wines that will be served at your party. For example, are you serving red wines, white wines, or both? 
Do any of your guests have food allergies that you need to consider?
Serving platters are great for displaying different foods that go with wine.
Serve cheese and crackers along with sliced fruit for appetizers. Use grapes instead of olives on your antipasto platter (olives are used for martinis).
For dessert, serve chocolate truffles or other chocolate treats; add them to your dessert plates next to glasses filled with red wine. 
If you want something more traditional but still low-key, go for red velvet cake or brownies topped with cream cheese frosting and cherries. 
Try making champagne cake or tiramisu with prosecco instead of coffee liqueur too.
Choose your wines carefully. 
You can make it a wine potluck where everyone brings a bottle or two of their favorite wine.
Choose wines that pair well with the foods you're serving, like white wines with seafood or red wines with meat dishes. 
If there are any wine experts at your party, ask them what they recommend serving with each course of food so that everyone can savor the celebration. 
Or better yet, have a food-wine pairing guide on a board by the table your guests can reference.
If you have a dinner party or potluck planned, try making wine-themed recipes like charcuterie boards or cheese plates with grapes and figs on them. 
If people aren't bringing appetizers, consider doing an antipasto spread instead. You could also make a charcuterie board with cheese and cured meats.
1. Decorations
Get creative with your decorations. 
Wine bottles make a pretty base for centerpieces, especially if wrapped in twine with sparkly lights. You can also place fairy lights inside a clear or colored wine bottle on the table. 

Use garlands made from vines or grapevines as centerpieces around the house. Or hang them from windowsills or doorways using ribbon to create an indoor vineyard effect that guests will love! 

Create an outdoor vineyard area by stringing lights.

Use natural or faux grapes as Christmas tree ornaments, table decorations, grape clusters hanging from the ceiling, or Christmas wreath décor. 

You can use wine corks as Christmas tree ornaments, form a star, or build a tabletop tree.

Build a wine bottle Christmas tree.

Why not use a cluster of grapes instead of a mistletoe? 
If you don't have the time to DIY your Christmas ornaments, you can buy Christmas-themed decorations and wine glasses online.
2. Wine-themed gifts
Is it really Christmas when there is no exchanging of gifts? So make the holiday of the wine lovers in your life merry and bright with presents they will surely cherish. 
Aside from their favorite bottle, here are some gift ideas for wine lovers:
3. Games
Host fun Christmas party games with a twist.
Charades

. Guests will have to guess wine-related words, movies with wine scenes, or songs with wine in the title.




Forfeit the word

. Have a list of words people are not allowed to use during the night. For example, fruity, sweet, booze, cheers, or wine. There should be consequences or punishment for those who mention the forfeited words.

Guess the mystery word

. Divide into different teams. Each group will have a designated guesser, while the teammates will provide a one-word clue of the mystery word. The group with the most guesses within the time limit wins.




Build a grape art

.

Encourage everyone build an art using toothpicks and grapes. The most innovative grape sculpture wins.




Wine trivia

. Prepare facts and false information about wine and let everyone guess which statement is true or false.




Wine pong

. Same as beer pong, only you're using wine. 
Also, have an awarding ceremony by the end of the night where you pick the best dressed, most creative, or even reward the early bird.
To keep everyone competitive, give an enviable award like a wine cooler.
Final words
Keep the laughter going and the wine flowing in your next holiday celebration. May these wine-themed Christmas party ideas help you throw the most epic wine party of the year. Happy holidays!