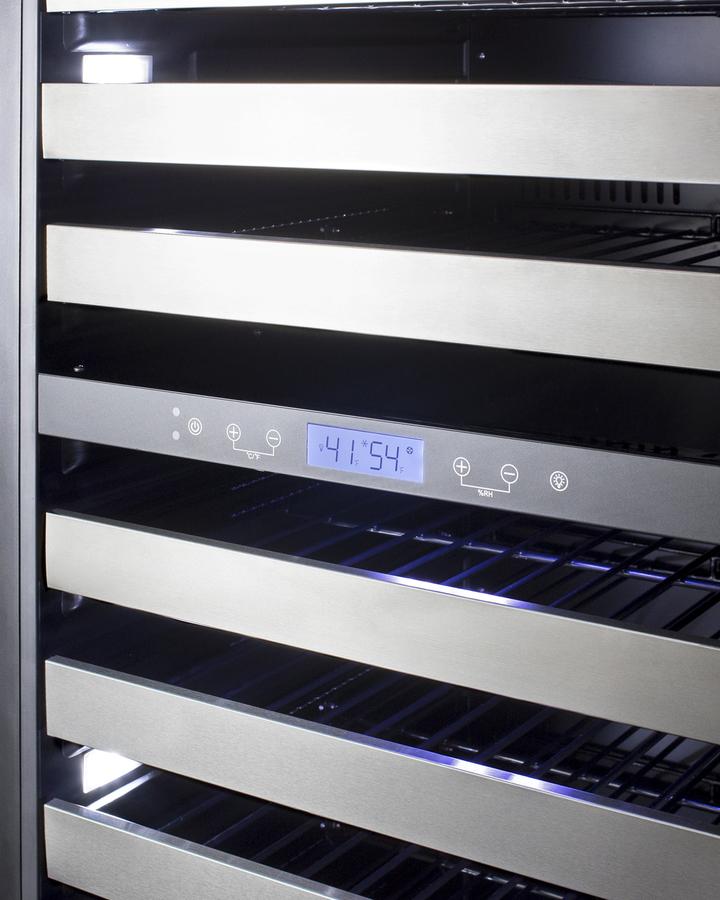 7 Amazing Features of a Summit Wine Cooler
Proper wine storage is essential to preserving the integrity of your wine collection's character and aromatic profile. Whether it's your first time purchasing a cooler or you're looking to improve your current wine cellar arrangement, Summit Appliances produces a stylish line of products that marries efficiency with elegance and ornamental style. There are several outstanding features that are both ubiquitous and exclusive to Summit wine coolers, tailored for different storage requirements and wine specifications.
These features not only maximize the longevity of your collection, but their variety in design and functionality will elevate any home cellar arrangement to a professional level, in both quality and style. Each product is developed and manufactured with a range of features tailored to the storage needs of each enthusiast and will ensure your stock tastes fresh at every pour.
7 "Chill" Features of Summit Wine Coolers
1. Multi-Zone Cooling
Whether you're partial to a full-bodied Rioja or an airy Rosé, Summit manufacturers coolers with multiple zones for regulating any type of wine at their optimal temperature for preservation and presentation. As any oenophile knows, the temperature is integral to the preservation of wine, and each type requires its own specified conditions for effective storage. The ideal temperature for storing wine ranges from 45° F to 65° F, with 55° F being a perfect median.
Light whites are best preserved at the lower range near 45° F, sherry and light reds can rest in the middle, while heartier reds thrive at the peak of 65° F. Models like the 
Summit 24'' Dual Zone Built-in Wine Cooler
 succeed at sustaining the optimal storage condition for any category of wine and feature a fan-cooled interior that includes an automatic defrost. The dual compartments are ideal, as reds and whites can be preserved in their designated compartments.
2. Installation Flexibility 
A feature ubiquitous across virtually all Summit wine coolers is their flexible design, allowing for built-in or freestanding installation. This frees a collector of any concern that they'll be restricted to placing a cooler in an unideal location, like a kitchen, that contains lingering aromas which could tarnish or dull the pallet of an open collection. Exposure to unwanted smells can completely compromise the pallet of an open bottle, so location is everything when it comes to storage.
Access to ideal storage space varies between every wine collector. Summit has taken this into account by producing an eclectic line of coolers with varying dimensions and styles catering to the exact needs of a collector's space limitations. 
The Summit 12'' Built-In Single Zone Wine Cooler
 is ideal for those storing a modest collection, having the capacity to store up to 21 standard Bordeaux style bottles or wider Burgundy style bottles, while fitting perfectly in most under-counter cutouts.
3. Tinted Glass Doors
Summit Coolers are optimized to house your collection in every way, even in the department of presentation. Tinted doors are available for each unit in a variety of five colors. This feature not only adds some personal flair to the cooler but provides added protection to your collection, reducing its exposure to natural or artificial light and reducing heat absorption. The units also perform more efficiently as a result, saving your running cost.
Each tint rejects up to 99% of UV rays for maximum protection. Clear Distortion-Free adhesive technology is utilized to bond the tint film onto the glass surface, ensuring the door tint lasts.
4. LED Lighting and Digital Thermostat
LED lighting is present in every Summit cooler, making a dazzling display of your domestic stock. Such spectacular amenities are accompanied by more practical features, such as a digital thermostat. Virtually all Summit units are optimized with digital thermostats that are capable of displaying the temperature in either Celsius or Fahrenheit. These barometers also have the ability to show the proper storage temperature for red, white, or sparkling wine, ensuring each bottle is stored in its appropriate climate.
5. Stainless Steel Trim
The Summit Dual Zone Side by Side Stainless Steel Wine Cooler sports many of the same features as its cousin units, albeit with some variations in aesthetic and storage capacity. Instead of the option for panel-ready frames, as seen with the 
Summit 24" Dual Zone Built-In Wine Cooler
, the SWC3668 has two seamless stainless steel trimmed glass doors, derived from a modern French door swing design.
6. Panel-Ready Door Frames
A summit wine cooler is also fantastic for those privy to interior design, as the panel-ready door frame featured with the 
SWC532BLBISTPNR
 is customizable, making it ready to match with any room's aesthetic. Each section of this dual-zone unit contains slide-out stainless steel trimmed wooden shelves, which extend all the way making for easy loading.
7. All in One
Socialites and serious collectors will benefit from the massive storage space available with the 
Summit Triple Zone Built-In Stainless Steel Wine Cooler
. This dapper unit is outfitted with a jet black cabinet and a double pane tempered glass, finished with a seamless stainless steel door trim and pro-style handle, combining ornate elements of both the SWC532LBISTPNR and SWC3668. The whole design is wrapped up with a stainless steel kickplate, making this unit soiree ready.
With all the best Summit features, the coup de grâce of this unit is its innovative three-zone design, which is ideal for storing red, white, and sparkling wine under the perfect serving and preservation conditions. The lowest zone operates between 54º and 72ºF (ideal for reds), the middle compartment between 41°F to 54°F (best suited for white or sparkling wines served at colder temperatures), and the upper chamber has a flexible range between 41°F to 72°F, customizable to accommodate your collection's needs.
Summit Appliance takes all needs into account when it comes to the presentation and preservation of a wine aficionado's collection. Summit Appliances are at the forefront of wine storage technology, accommodating both the practical and ornamental needs of a dedicated wine collector. 
Visit Wine Cellar HQ 
to browse our coolers and learn exclusive tips and methods for ensuring the longevity of your wine.