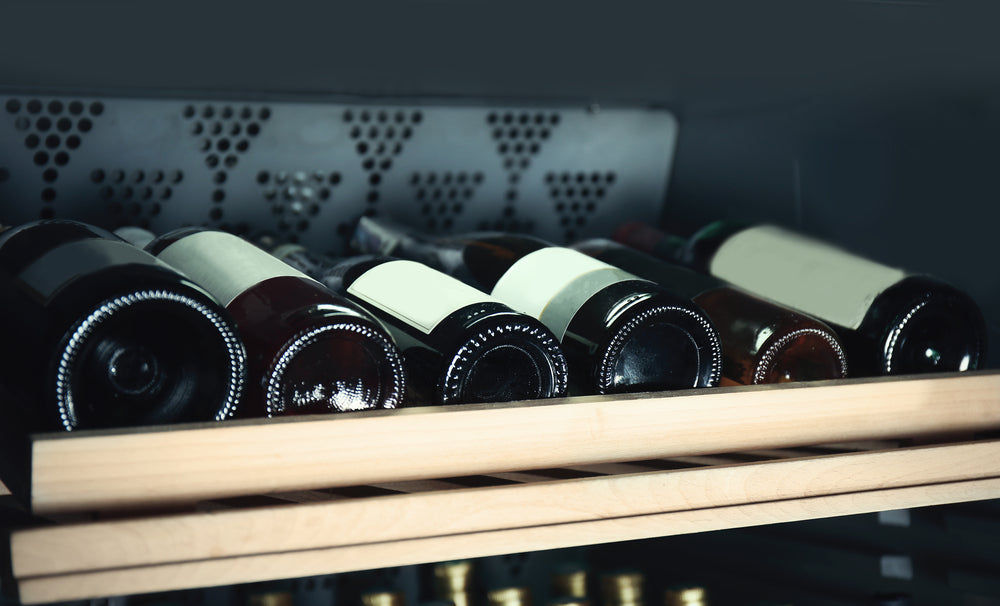 5 Qualities to Look for When Shopping for Wine Coolers
Wine coolers are a great investment for anyone with a passion for fine things. If you invest in a quality bottle of wine, it's critical that the item be allowed to age under the proper conditions. Racks subject your wine to variations in temperature which can be detrimental to your wine's ability to achieve its fullest potential flavor. Sunlight can also harm your wine's development, and standing racks are also subject to jostling, which could result in broken bottles. In this article, we'll explore five qualities to look for in a wine cooler.
5 Qualities to Look for When Shopping for Wine Coolers
Wine refrigerators come in a variety of sizes, shapes, and styles. You can be assured that whether you live in a studio apartment or a sprawling mansion, you can find the perfect cooler to match your requirements of space and decor. Before you begin shopping, look around your living space and try to imagine the best spot for a wine cooler. Take some measurements so you have an idea of the size you require and then see what is available in the size and shape you require. Here are some important factors to consider before buying.
Long Term or Short Term Storage
Time is relative when it comes to wine. Most individuals start with a wine cooler for short term storage of wine, which is considered to be anything under six months. Coolers that are designed for long term storage, which can be anything over six months, are referred to as wine cellars. Wine cellars often have more precise temperature control and include options like humidity control. Cellars are designed to provide a perfect environment for your wine to mature. They come in a variety of shapes and sizes with differing capacities.
Most advanced wine aficionados have both a wine cooler and a wine cellar, but if you're only going to purchase one, you should purchase your wine cooler first. Wine coolers provide ease of access and are generally placed closer to your dining space. If, for example, you're preparing for a big event, you transfer the wine for the evening from your cellar to your cooler prior so it's on hand and ready at perfect serving temperature.
Transparent or Opaque Doors
Many of the items on this list have both a practical and aesthetic function. As stated before, sunlight can harm your wine's development, so it's important to have UV protection built into your wine cooler. Some customers feel an opaque door provides more UV protection, but transparent doors are also capable of blocking harmful rays.
One consideration for choosing a transparent door is that it allows you to read the labels without opening the cooler. Wine coolers provide consistent temperature, and this is one of the reasons a wine cooler is superior to storing your wine in a standard kitchen refrigerator. With a kitchen refrigerator, people open the door many times a day, which causes temperature fluctuations; but temperatures in your wine fridge can still fluctuate if you open and close the door too much. A transparent door on your wine cooler helps minimize the temperature fluctuations that come from opening the door.
Size
There is an astounding variety of sizes available in wine coolers. Small coolers are available that can hold as few as six bottles, and massive coolers exist with capacities of up to a thousand bottles. Coolers are also available with different orientations. Some are built with a narrow door that allows you to insert the bottle like sliding a cartridge into a cylinder. This design limits the space requirements for the cooler, but it also makes it impossible to read the label with the bottle in storage.
Other coolers have horizontal shelving which makes the cooler wider but allows you to read the labels. Larger coolers often have variable shelving that allows you to remove spacers to increase capacity. This option allows you to store more bottles, but it sometimes makes for a less attractive display. Massive wine collections require multiple coolers to store the whole collection.
Built-In or Free-Standing
There are attractive options available in both built-in or free-standing designs. Free-standing coolers allow you the convenience of unloading the appliance in your room, plugging it in, and enjoying your wine. Built-in coolers require a bit of ingenuity as you create a space in a wall or cupboard. A built-in cooler creates a smoother, more integrated appearance and often helps you take better advantage of the space in your room. Ultimately, your interior decorator will help you determine whether a built-in or free-standing cooler is the better choice for your room and wine needs.
Lighting
Some coolers offer very dramatic internal and external lighting. Interior lighting has the practical effect of allowing you to read the labels, but it also helps transform your wine display into a work of art. If you design your wine cooler to be the centerpiece of your room, a lighting system can help emphasize the elegance of the bottles. When properly illuminated, you can display your wine collection to the maximum effect.
Choosing the Perfect Wine Cooler
A wine cooler can help transform a study into a dedicated wine room. With the demands of work and family, there is no better sensation than retiring to a sanctuary of luxury and enjoying a fine glass of wine. It has been said that wine is like history in a bottle, and every sip transports you to another age in another land populated by people with problems and concerns both similar and vastly different to our own. With the chaotic speed of daily life, it's beneficial to the soul to stop and reflect for a moment, and pouring a glass of wine is like pushing the pause button.
No matter what your living space, it is always possible to find the perfect cooler for your wine needs and your artistic sensibilities. Whether you want a polished, modern look, or you are more inclined to a wood grain finish, rest assured that you can find a cooler in the size and shape that you need. 
Peruse the fine selection of wine coolers on Wine Cellar HQ
to take the first step in building your personal wine sanctuary.