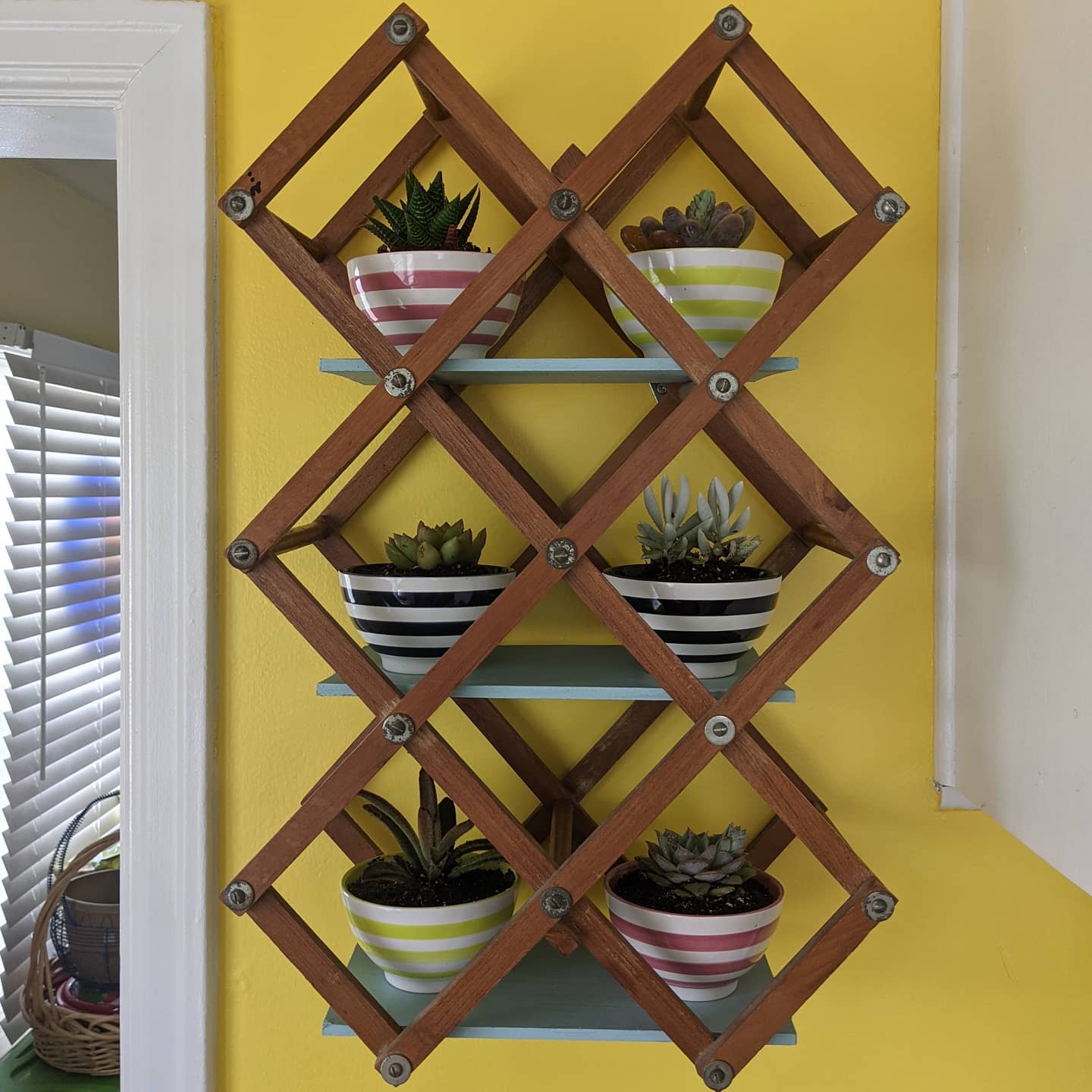 8 Creative Ways to Use Wine Racks Without Wine
Have an old wine rack lying around, or planning to buy one? With their versatility and sleek design, wine racks don't just have to be used to store wine bottles. There are plenty of unconventional ways to repurpose a wine rack—that don't involve alcohol. We'll show you eight creative ways to use wine racks without wine. But, first…
What is a wine rack?
Wine racks are shelving wine storage systems where you can conveniently keep, display, and organize your wine collection. Here's a quick overview of wine racks before you learn other ways to use them. 
Wine rack materials
Most wine rack designs are made of metal, wood, or acrylic and are designed to hold a specific number of bottles. 
Metal wine racks
Metal wine racks come in different finishes, styles, and sizes. They are sleek and sophisticated, blending with your contemporary to classic design. Metal wine racks are sturdy and generally narrower, so they're perfect for small spaces or custom wine cellars.
Wood wine racks
Wooden wine racks are great for rustic, boho, or farmhouse-style homes. Wine racks made of wood are popular due to their aesthetic and organic appeal. They can range from simple, rustic designs to elaborate, ornate pieces intended to be displayed for your guest to marvel at and store your wines properly.
Wood wine racks are available in various types of wood, such as mahogany, oak, and maple, each of which has a unique grain pattern and character.
Acrylic wine rack
Wine racks made of acrylic are lightweight, low maintenance, and water and temperature resistant. Acrylic wine racks are considerably cheaper but just as dependable as their metal and wood wine rack counterparts when displaying your wine collection beautifully.
Wine rack location
Wine racks are often stackable, making them ideal for limited storage space. Some wine racks have a compact structure, making them easy to store in a wine cellar or pantry. Wine racks can be placed virtually anywhere, so there's one for your design, space, and specific storage needs. 
Common wine rack locations:
Wall-mounted

Freestanding

Countertop

Floor-to-ceiling 
Since they are modular, you can stack them up under the stairs, along the wall, or in the wine cellar.
Wine rack sizes
Wine racks can also be customized to meet specific needs. For example, some wine cellar racks are designed to hold larger bottles, such as magnums, while others have adjustable shelves that accommodate different bottle sizes. Some wine racks even have built-in wine glasses holders, allowing you to store your glasses and bottles in one convenient location.
8 Creative Ways to Use Wine Racks Without Wine
Wine racks can be repurposed and used for various other purposes, not just storing wine bottles. So how to use wine racks for other things? 
Here are eight creative ideas you can steal:
Planter Holder
Out of ideas for how to store your indoor houseplants? Repurpose an old wine rack into a home for multiple potted greenery. Place each pot in designated wine slots to create an elevated design. Wine racks can hold small plants, such as succulents or herbs, creating a unique vertical garden. You can place it in your kitchen, giving easy access to fresh herbs while cooking. Or in your small balcony so you can maximize the space. Plants bring positive energy to a room, so you can also place your wine rack plant holder in your living room, dining room, study, or bedroom. This creative idea turns an overlooked eyesore into a colorful and unique display that instantly draws visitors' attention!
Kitchen Utensil Holder
Repurpose built-in wine racks in the kitchen by storing kitchen utensils, such as spatulas and spoons, as well as aluminum foil and cling wraps, keeping them organized and easily accessible.
Bookshelf
Forgo the traditional bookcase and store books in your wine rack instead. It's an innovative way to display novels, poetry collections, and recipe books in style. Plus, you can mix decorations or artwork between the books to create a beautiful shelf full of individual items with a unified theme. The finished look? A one-of-a-kind bookshelf that's as chic as it is functional! Wine racks can be stacked, providing a unique and space-saving solution for your book collection. 
Bathroom Storage
What to do with a wine rack if you don't drink? If you're short on storage space in your bathroom, a simple wine rack can come to your rescue. Wine racks for home can be used to store towels, washcloths, or other bathroom essentials in a fancy way, freeing up space in cabinets and drawers. Just hang or mount it on the wall and fill each bin with toiletries such as facial cleansers, cotton swabs and Q-tips, makeup brushes, and other items. Use labels to organize each category for an easy classification system that anyone can use.
Check out this informative video from Jansen's DIY for other small bathroom storage ideas.
Shoe Organizer
There are other uses for wine racks besides displaying wines, and organizing shoes are one of them. Old wine racks can make excellent shoe storage solutions. So instead of cramming shoes in the corners of closets, use your wine rack to neatly store and organize a variety of heels and flats. Plus, you don't have to limit yourself to shoe storage--use it as a spot to tidy up boots, slippers, and sandals. It's easy to take the organization up a notch while making your entryway more stylish. In addition, it helps you see your shoe collection right away, so it's easier for you to plan your outfit.
Craft Supply Organizer
How to decorate a wine rack without wine? Wine racks can store and organize crafting supplies, such as yarn, knitting needles, and glue. Organize your markers, highlighter, coloring pens, and pencils in the wine rack so you can keep track of your arts and crafts materials for your next project.
Office Supply Holder
It's easier to work when you can see and find everything you need in an orderly place. And wine racks are perfect for this purpose. Wine racks can store office supplies, such as pens, paper clips, and staplers, keeping the desk organized and clutter-free.
Magazine Holder
Have a magazine subscription and not enough storage space? Keep your home clutter-free by placing your magazines and news materials in a wine rack. You can put them in your living room, home office, bathroom, or bedroom.
In summary
What to do with a built-in wine rack when you don't drink? A lot! With their usefulness and simple but elegant designs, wine racks will always be trendy and never outdated. Wine racks are an excellent place for wine storage, and these are just a few examples of how wine racks can be repurposed and used for other functions. What other uses for wine racks do you have in mind? Share it in the comment box below!